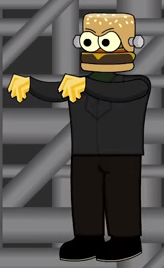 Sackboy (or "Tyriq Alexander Carol Jr Manley" in 2.0) is the 4th boss in A Koopa's Revenge II. He is found at the final stage of World 4, at the 'Jolly Toy Factory'. To defeat him, you can either use his minions (called Sackbots) and throw them at his head, or use powerups and throw the projectiles at him (it takes two fireballs to kill him, however).
Defeating him grants access to World 5.
Attacks
[
]
•He will fire the letter Z from his hand to make you fall asleep.
•He will slam the ground, causing boxes, Mini-Barbie heads, and gears to fall on you.
•After taking a certain amount of hits, he will fire a barrage of Zs from his body as part of his attack pattern.
•He will toss a Sackbot at you. Pick up the Sackbot and then throw it at his head to deal damage. You need 5 hits to defeat him.
Trivia
[
]
So far, Tyriq Alexander Carol Jr Manley has the longest name..